Dear visitor,
Welcome to our house Lykwols Bliid, we are very happy to introduce ourselves to you. We are Jannes and Wieke Haarsma. On our page "THE STORY" you will find that we live in the house next door to Lykwols Bliid and that Jannes is still running an active farm here.
We are both really active people and we both enjoy meeting new people. With five children growing up here there was no lack of entertainment and socializing. It became very quiet in our house once the children all found their own place to live, and even quieter when the house next to us became vacant.
At that time we decided to change this house into a vibrant holiday home. All the ingredients were present; aspa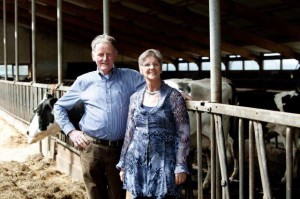 cious home, a lovely garden, a relaxing environment and plenty of opportunities for trips to the local surroundings. To make our guests feel at home we have furnished our house with great dedication and care. Our logo shows a dandelion with it's flowers released in the wind, we hope you can also release any pressure in your life while enjoying your stay and relaxing at Lykwols Bliid.
Best wishes and we hope to meet you soon, Jannes and Wieke